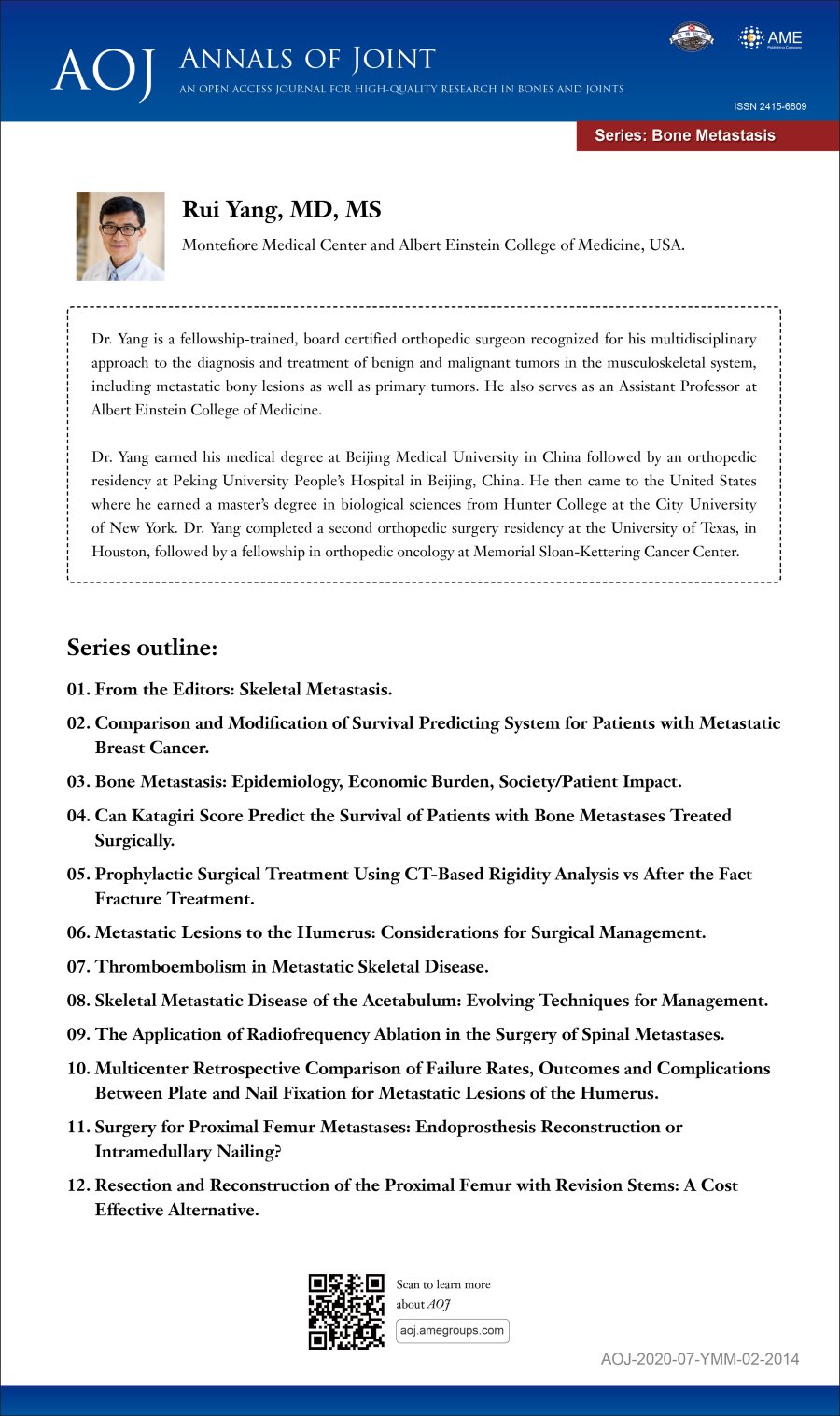 This series on "Bone Metastasis" is edited by Dr. Rui Yang, from Montefiore Medical Center and Albert Einstein College of Medicine, USA.
Rui Yang, MD, MS
Montefiore Medical Center and Albert Einstein College of Medicine, USA.
Dr. Yang is a fellowship-trained, board certified orthopedic surgeon recognized for his multidisciplinary approach to the diagnosis and treatment of benign and malignant tumors in the musculoskeletal system, including metastatic bony lesions as well as primary tumors. He also serves as an Assistant Professor at Albert Einstein College of Medicine.
Dr. Yang earned his medical degree at Beijing Medical University in China followed by an orthopedic residency at Peking University People's Hospital in Beijing, China. He then came to the United States where he earned a master's degree in biological sciences from Hunter College at the City University of New York. Dr. Yang completed a second orthopedic surgery residency at the University of Texas, in Houston, followed by a fellowship in orthopedic oncology at Memorial Sloan-Kettering Cancer Center.
Series outline:
From the Editors: Skeletal Metastasis.
Comparison and Modification of Survival Predicting System for Patients with Metastatic Breast Cancer.
Bone Metastasis: Epidemiology, Economic Burden, Society/Patient Impact.
Can Katagiri Score Predict the Survival of Patients with Bone Metastases Treated Surgically.
Prophylactic Surgical Treatment Using CT-Based Rigidity Analysis vs After the Fact Fracture Treatment.
Metastatic Lesions to the Humerus: Considerations for Surgical Management.
Thromboembolism in Metastatic Skeletal Disease.
Skeletal Metastatic Disease of the Acetabulum: Evolving Techniques for Management.
The Application of Radiofrequency Ablation in the Surgery of Spinal Metastases.
Multicenter Retrospective Comparison of Failure Rates, Outcomes and Complications Between Plate and Nail Fixation for Metastatic Lesions of the Humerus.
Surgery for Proximal Femur Metastases: Endoprosthesis Reconstruction or Intramedullary Nailing?
Resection and Reconstruction of the Proximal Femur with Revision Stems: A Cost Effective Alternative.
Disclosure:
The series "Bone Metastasis" was commissioned by the editorial office, Annals of Joint without any sponsorship or funding. Rui Yang is serving as the unpaid Guest Editor for the series.