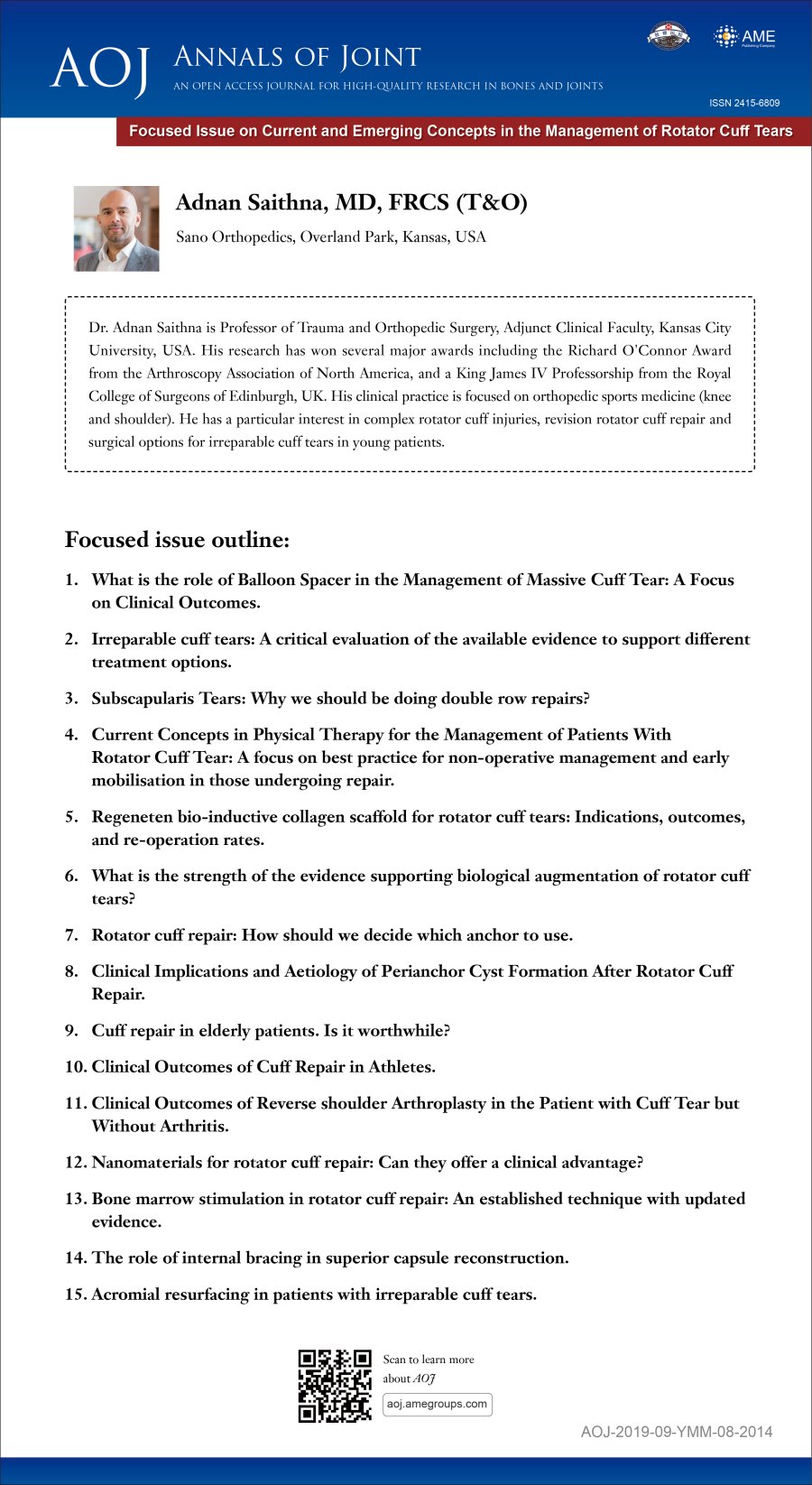 This focused issue on "Current and Emerging Concepts in the Management of Rotator Cuff Tears" is edited by Dr. Adnan Saithna, from Sano Orthopedics, Overland Park, Kansas, USA.
Dr. Adnan Saithna is Professor of Trauma and Orthopedic Surgery, Adjunct Clinical Faculty, Kansas City University, USA. His research has won several major awards including the Richard O'Connor Award from the Arthroscopy Association of North America, and a King James IV Professorship from the Royal College of Surgeons of Edinburgh, UK. His clinical practice is focused on orthopedic sports medicine (knee and shoulder). He has a particular interest in complex rotator cuff injuries, revision rotator cuff repair and surgical options for irreparable cuff tears in young patients.
Focused issue outline:
What is the role of Balloon Spacer in the Management of Massive Cuff Tear: A Focus on Clinical Outcomes.
Irreparable cuff tears: A critical evaluation of the available evidence to support different treatment options.
Subscapularis Tears: Why we should be doing double row repairs?
Current Concepts in Physical Therapy for the Management of Patients With Rotator Cuff Tear: A focus on best practice for non-operative management and early mobilisation in those undergoing repair.
Regeneten bio-inductive collagen scaffold for rotator cuff tears: Indications, outcomes, and re-operation rates.
What is the strength of the evidence supporting biological augmentation of rotator cuff tears?
Rotator cuff repair: How should we decide which anchor to use.
Clinical Implications and Aetiology of Perianchor Cyst Formation After Rotator Cuff Repair.
Cuff repair in elderly patients. Is it worthwhile?
Clinical Outcomes of Cuff Repair in Athletes.
Clinical Outcomes of Reverse shoulder Arthroplasty in the Patient with Cuff Tear but Without Arthritis.
Nanomaterials for rotator cuff repair: Can they offer a clinical advantage?
Bone marrow stimulation in rotator cuff repair: An established technique with updated evidence.
The role of internal bracing in superior capsule reconstruction.
Acromial resurfacing in patients with irreparable cuff tears.