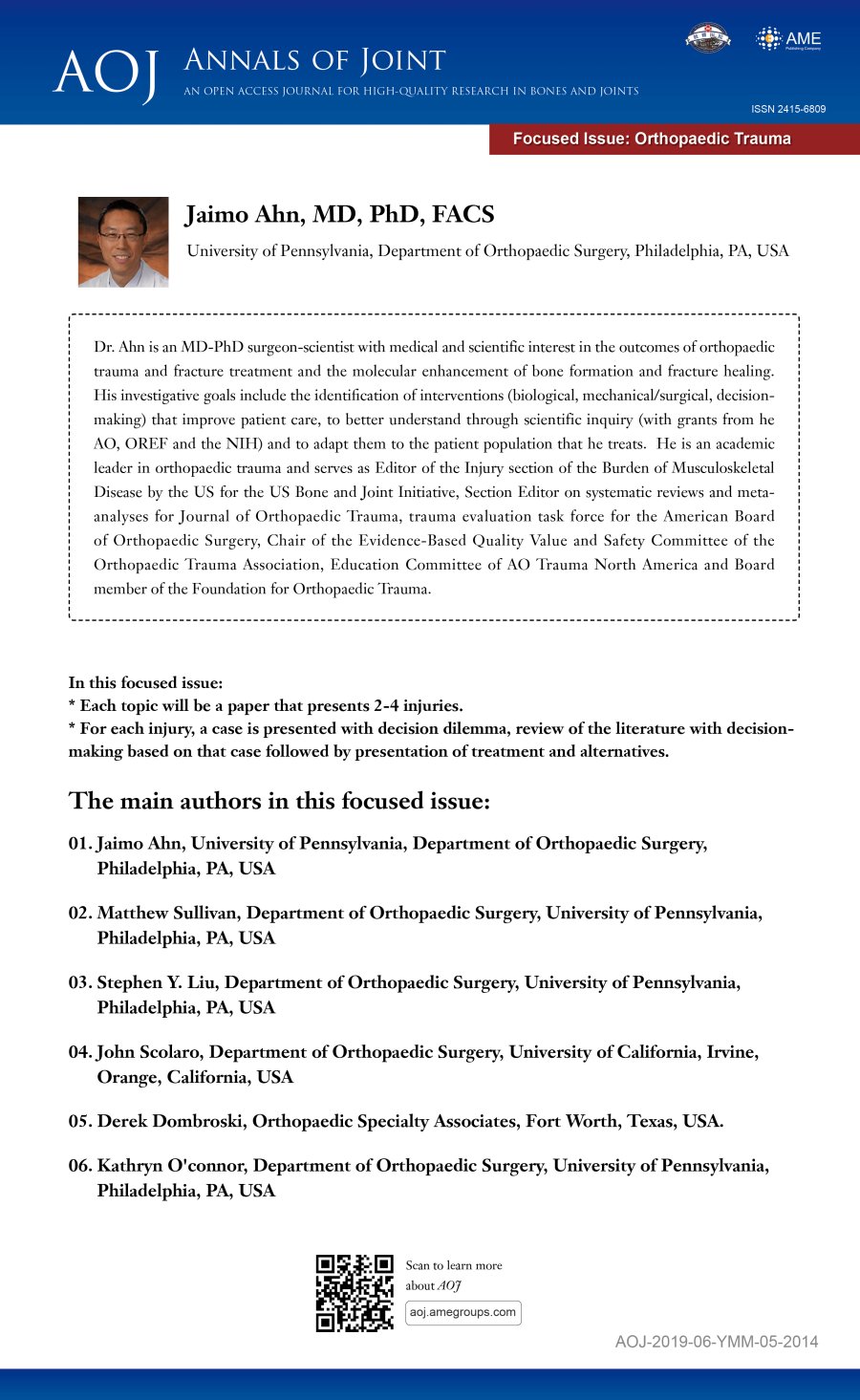 This focused issue on "Orthopaedic Trauma" is edited by Dr. Jaimo Ahn, University of Pennsylvania, Department of Orthopaedic Surgery, Philadelphia, PA, USA.

Dr. Ahn is an MD-PhD surgeon-scientist with medical and scientific interest in the outcomes of orthopaedic trauma and fracture treatment and the molecular enhancement of bone formation and fracture healing. His investigative goals include the identification of interventions (biological, mechanical/surgical, decision-making) that improve patient care, to better understand through scientific inquiry (with grants from he AO, OREF and the NIH) and to adapt them to the patient population that he treats. He is an academic leader in orthopaedic trauma and serves as Editor of the Injury section of the Burden of Musculoskeletal Disease by the US for the US Bone and Joint Initiative, Section Editor on systematic reviews and meta-analyses for Journal of Orthopaedic Trauma, trauma evaluation task force for the American Board of Orthopaedic Surgery, Chair of the Evidence-Based Quality Value and Safety Committee of the Orthopaedic Trauma Association, Education Committee of AO Trauma North America and Board member of the Foundation for Orthopaedic Trauma.
In this focused issue:
*Each topic will be a paper that presents 2-4 injuries.
* For each injury, a case is presented with decision dilemma, review of the literature with decision-making based on that case followed by presentation of treatment and alternatives.
The main authors in this focused issue:
Jaimo Ahn, University of Pennsylvania, Department of Orthopaedic Surgery, Philadelphia, PA, USA

Matthew Sullivan, Department of Orthopaedic Surgery, University of Pennsylvania, Philadelphia, PA, USA

Stephen Y. Liu, Department of Orthopaedic Surgery, University of Pennsylvania, Philadelphia, PA, USA

John Scolaro, Department of Orthopaedic Surgery, University of California, Irvine, Orange, California, USA

Derek Dombroski, Orthopaedic Specialty Associates, Fort Worth, Texas, USA.

Kathryn O'connor, Department of Orthopaedic Surgery, University of Pennsylvania, Philadelphia, PA, USA