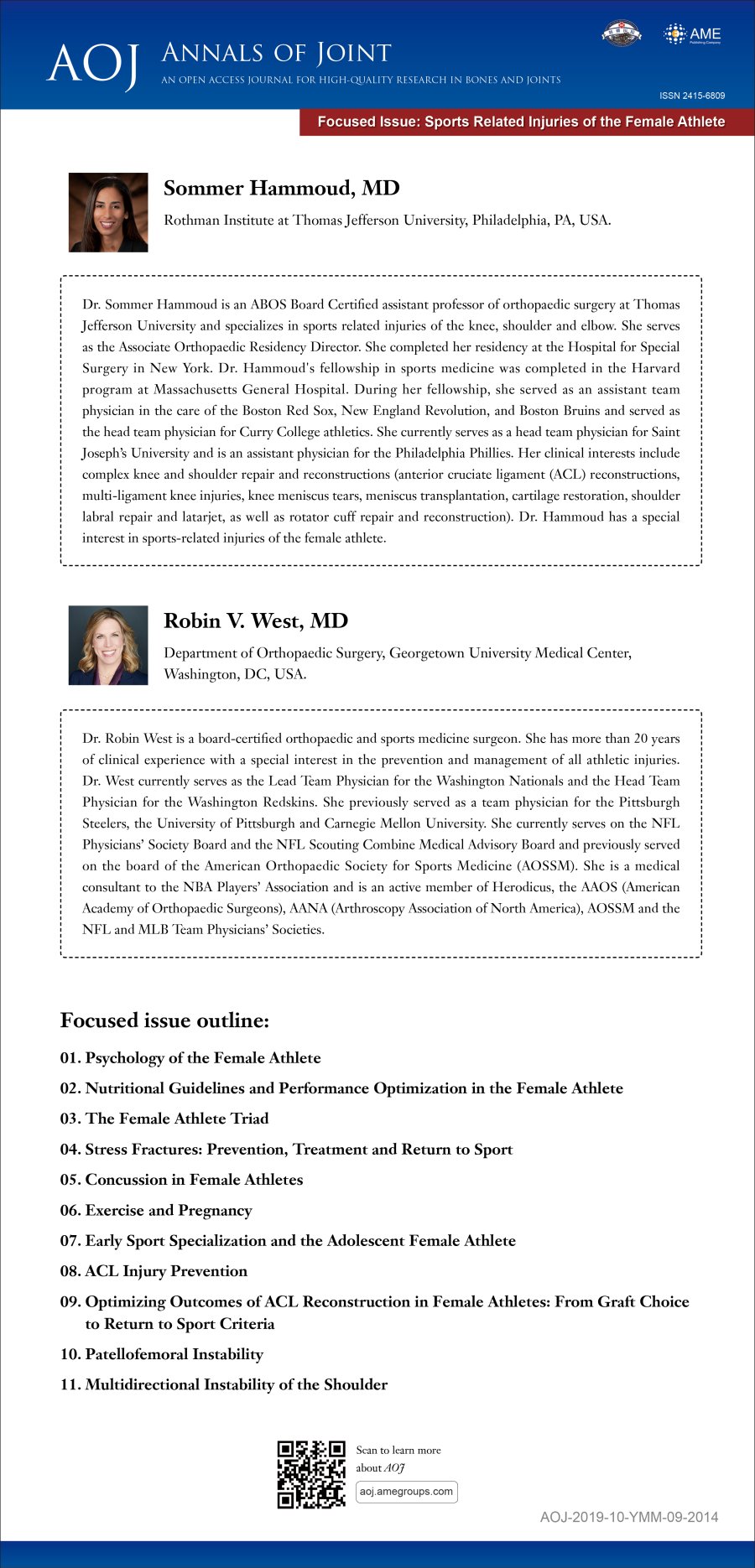 This focused issue on Sports Related Injuries of the Female Athlete is edited by Dr. Sommer Hammoud, MD, from Rothman Institute at Thomas Jefferson University, Philadelphia, Pennsylvania, USA; and Dr. Robin V. West, MD, from Department of Orthopaedic Surgery, Georgetown University Medical Center, Washington DC, USA.
Dr. Sommer Hammoud is an ABOS Board Certified assistant professor of orthopaedic surgery at Thomas Jefferson University and specializes in sports related injuries of the knee, shoulder and elbow. She serves as the Associate Orthopaedic Residency Director. She completed her residency at the Hospital for Special Surgery in New York. Dr. Hammoud's fellowship in sports medicine was completed in the Harvard program at Massachusetts General Hospital. During her fellowship, she served as an assistant team physician in the care of the Boston Red Sox, New England Revolution, and Boston Bruins and served as the head team physician for Curry College athletics. She currently serves as a head team physician for Saint Joseph's University and is an assistant physician for the Philadelphia Phillies. Her clinical interests include complex knee and shoulder repair and reconstructions (anterior cruciate ligament (ACL) reconstructions, multi-ligament knee injuries, knee meniscus tears, meniscus transplantation, cartilage restoration, shoulder labral repair and latarjet, as well as rotator cuff repair and reconstruction). Dr. Hammoud has a special interest in sports-related injuries of the female athlete.
Dr. Robin West is a board-certified orthopaedic and sports medicine surgeon. She has more than 20 years of clinical experience with a special interest in the prevention and management of all athletic injuries. Dr. West currently serves as the Lead Team Physician for the Washington Nationals and the Head Team Physician for the Washington Redskins. She previously served as a team physician for the Pittsburgh Steelers, the University of Pittsburgh and Carnegie Mellon University. She currently serves on the NFL Physicians' Society Board and the NFL Scouting Combine Medical Advisory Board and previously served on the board of the American Orthopaedic Society for Sports Medicine (AOSSM). She is a medical consultant to the NBA Players' Association and is an active member of Herodicus, the AAOS (American Academy of Orthopaedic Surgeons), AANA (Arthroscopy Association of North America), AOSSM and the NFL and MLB Team Physicians' Societies.
Focused issue outline:
Psychology of the Female Athlete
Nutritional Guidelines and Performance Optimization in the Female Athlete
The Female Athlete Triad
Stress Fractures: Prevention, Treatment and Return to Sport
Concussion in Female Athletes
Exercise and Pregnancy
Early Sport Specialization and the Adolescent Female Athlete
ACL Injury Prevention
Optimizing Outcomes of ACL Reconstruction in Female Athletes: From Graft Choice to Return to Sport Criteria
Patellofemoral Instability
Multidirectional Instability of the Shoulder