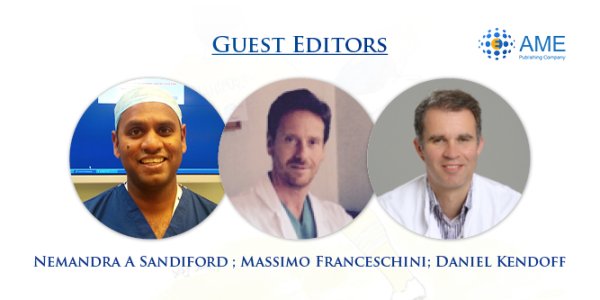 This series on "Prosthetic Joint Infection" is edited by:
- Nemandra A. Sandiford, MRCS, FFSEM (RCSI), FRCS (Tr/Orth), Joint Reconstruction Unit, Southland Hospital, Invercargill, New Zealand;
- Massimo Francescini, Istituto Ortopedico "Gaetano Pini", Milan, Italy; and
- Daniel Kendoff, Chefarzt, Zentrum für Orthopädie und Unfallchirurgie, HELIOS Klinikum Berlin-Buch, Berlin, Germany.
This special series focuses on the increasingly important issue of Prosthetic Joint Infection (PJI). We present expert reviews of the contemporary and important topics and attempt to shed some clarity on the controversial aspects of management of PJI. We illustrate why this issue is rightly a growing concern in contemporary orthopaedic practice across the globe.
Disclosure:
The series "Prosthetic Joint Infection" was commissioned by the editorial office, Annals of Joint without any sponsorship or funding. Nemandra A Sandiford, Massimo Franceschini and Daniel Kendoff are serving as the unpaid Guest Editors for the series.